Translation Editor
Save time on handling localization files and translation strings.
Try SimpleLocalize
Customer-specific translations management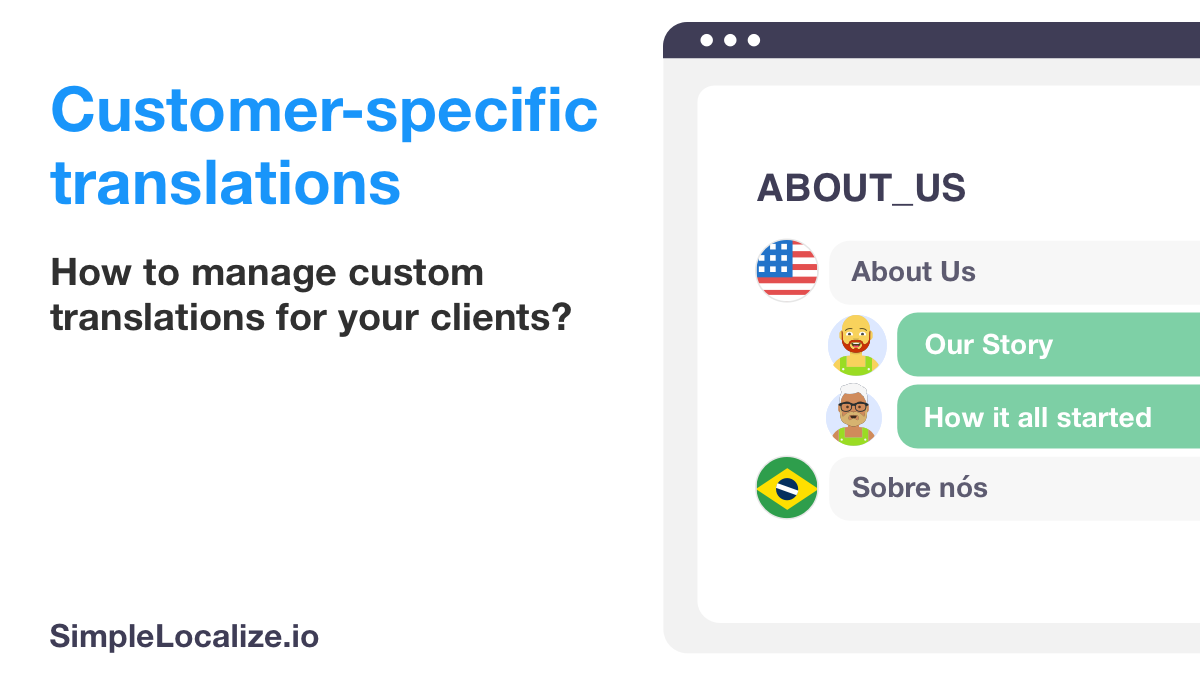 How to manage customer-specific translations?
As a software or service provider, you design and develop your products for all your clients. Offering one consistent and finished version of your product, you are certainly familiar with customer requests for small changes that could tailor the product to their needs. How do you manage such requests from your clients? Do you change already working texts or buttons for that one person, or keep one version? Customer-specific translations may seem complicated at first sight. See how SimpleLocalize can make them easy for you and your team. 
What is customer-specific translation?
The subject of customer-specific translations comes out when you offer a ready-to-use or only partially customizable product to your clients. Your well-thought-out and developed solution works great for most of them and meets their requirements. However, at some point you receive a request of that one client, Paul, who would like to change the main button text from 'Pay Later' to 'Pay at Check-In'. The change is important for him, as it indicates the exact moment of payment in case of his business. Then, there is another customer, Jane, who would like to see "How it all started" header text instead of simple "About us". You can't change those text for the whole product, they would simply not work for other clients.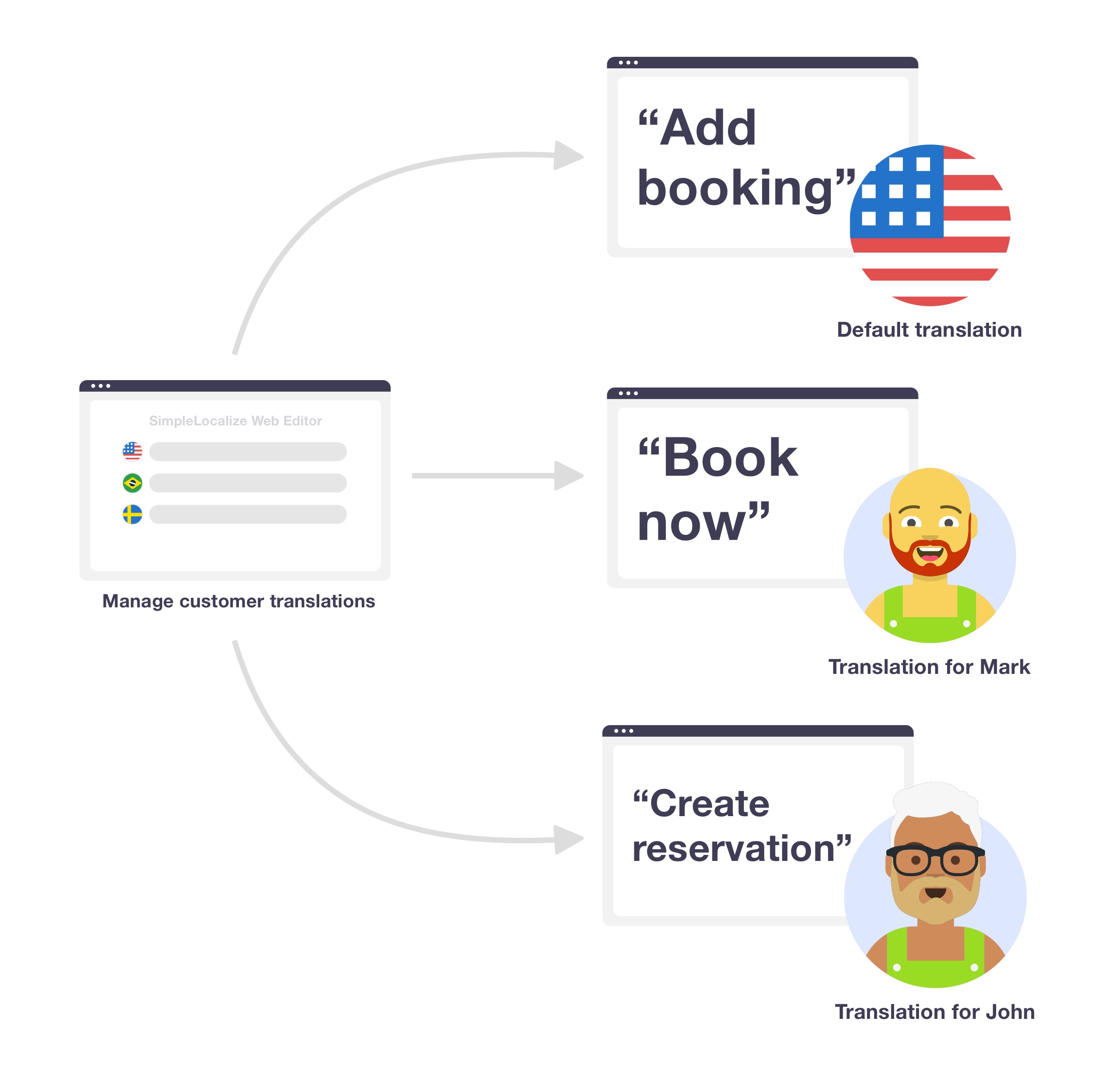 Customer-specific translation is all about adapting the product to the customers' needs. With good translation management solution, you can respond positively to such requests, which will strengthen your customer relationship. Importantly, additional customization and personalization options open up new possibilities. Your booking system will be functional not only for hotels, but also for hostels, guest houses or even tours - they all use different terminology and naming. Having one product that can be adapted to different customers' needs significantly increases its value. 
Why is custom translation problematic for most companies?
Creating custom content for your client can be challenging. Especially when you receive many customization requests and queries. Usually, the requested changes are relatively small. They are changes to individual words, rather short pieces of text. However, such changes may not suit other customers using the existing solution. Creating custom content for one client would mean duplicating content to change just one word. And then another change for a different client.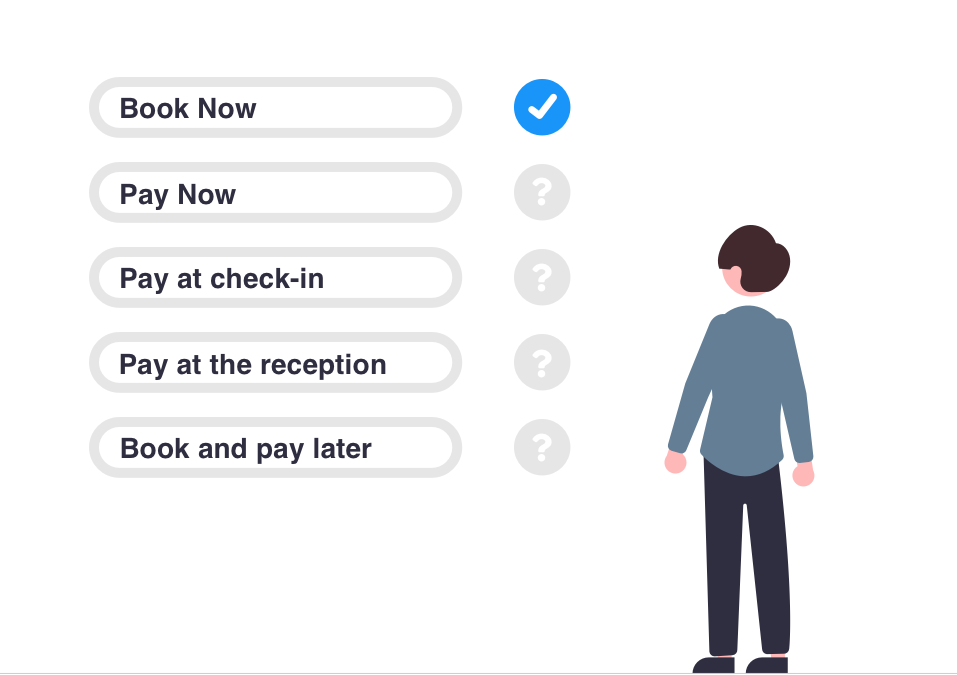 For most businesses, adjusting texts for every request is simply not worth the amount of work that it requires. It seems easier to keep just one version and adjust it only in rare cases when the change will not affect negatively all other users. But is that a good practice? Certainly, it does not improve your product quality, neither customer relations. Are you ready to change that?
Easy solution to manage customer-specific translations
Translation management with SimpleLocalize lets you manage customer-specific change requests without duplicating any code. You can create custom translations that apply to a selected customer only. How does it work exactly?
Create your customer ID in SimpleLocalize - make it the same as the ID in your software. To recognize the client easily, add a description. It can be the client's name or something else that will help you differentiate him from others.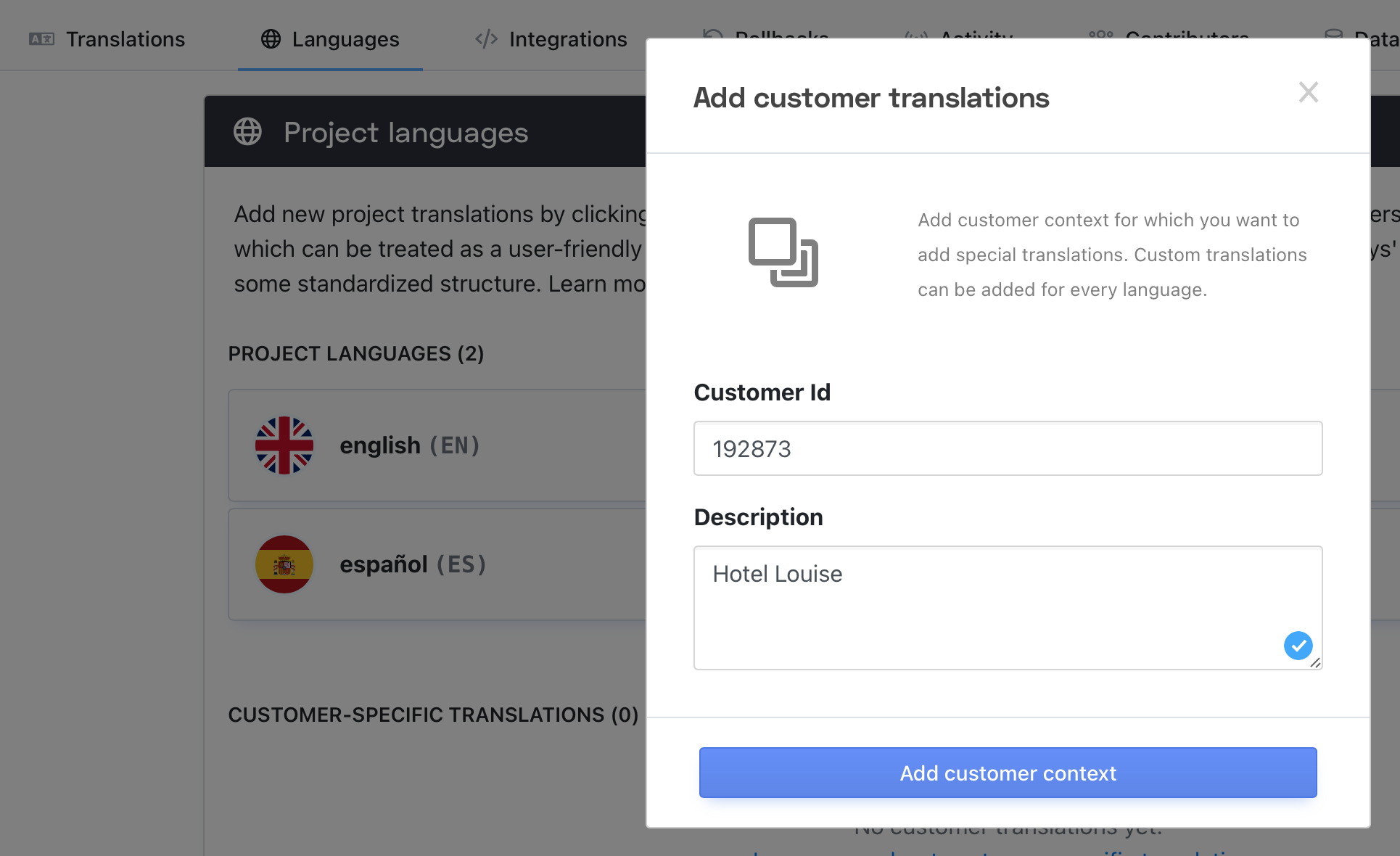 When it's done, in translations editor, you will see a new line for the created customer. Enter the requested change - you can add changes in all translation keys and languages. Note that you edit only the keys and languages you need to change. SimpleLocalize will replace the custom translation keys with default ones if they are empty.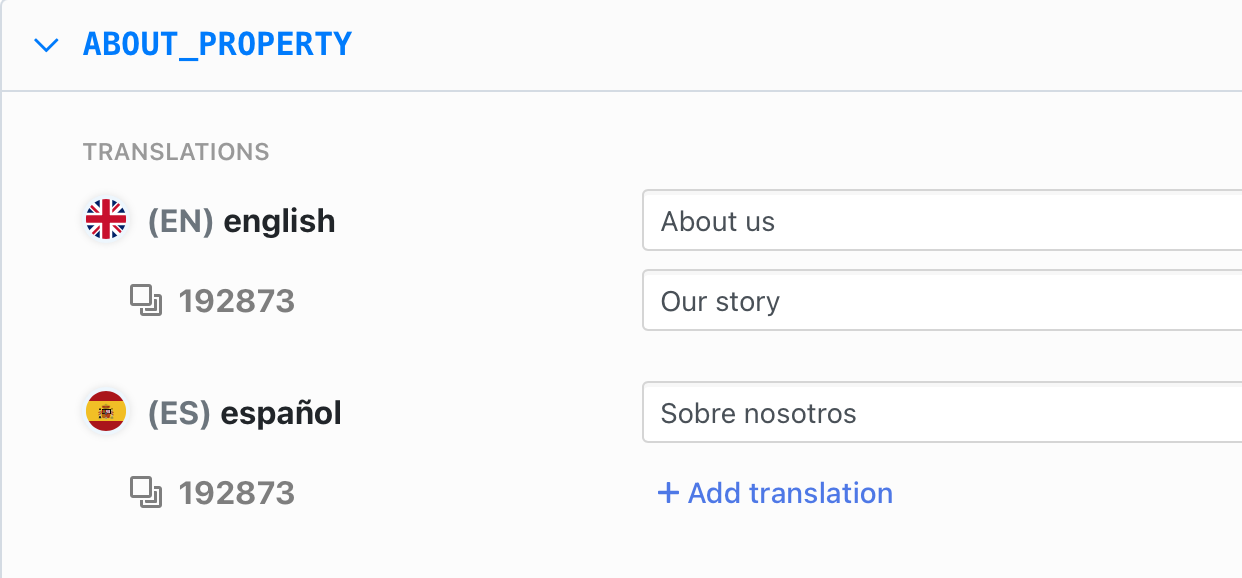 Now, when you receive a request to adjust some text, it will take only a moment to create the customer and add the specific translation. 
Sounds good? For more details, check our docs with instructions.
Benefits of customized software translation
Adjusting content to your customer needs brings only benefits when you use customer-specific translations. See the most important ones below and consider whether your product could benefit from such a solution.
The content can be tailored to the specific needs of the client. This solution gives you the opportunity to extend your product offering to a wider range of customers and industries.
Improving customer relations. Responding to request for product customization leads to improved relationships and increases trust in our product. Remember that happy and satisfied customer will not look for other solutions - yours will provide him with the best customization options.
It works for both small and larger businesses. Offering customizable content is a great advantage over those who will stick to one product version. Personalization is the key!
Tailored content grows sales and increases revenues. Offering content customization option is a great advantage for your clients - it will encourage them to try your product and keep using it.
Offering unique, fully personalized content to the customer. Customized products demonstrate your attention to detail and care for your customer's needs.