How it works?
Import translations using Web UI, API or CLI. Translate strings in translation editor or use auto-translation.
Download translations to your project or host them on our servers.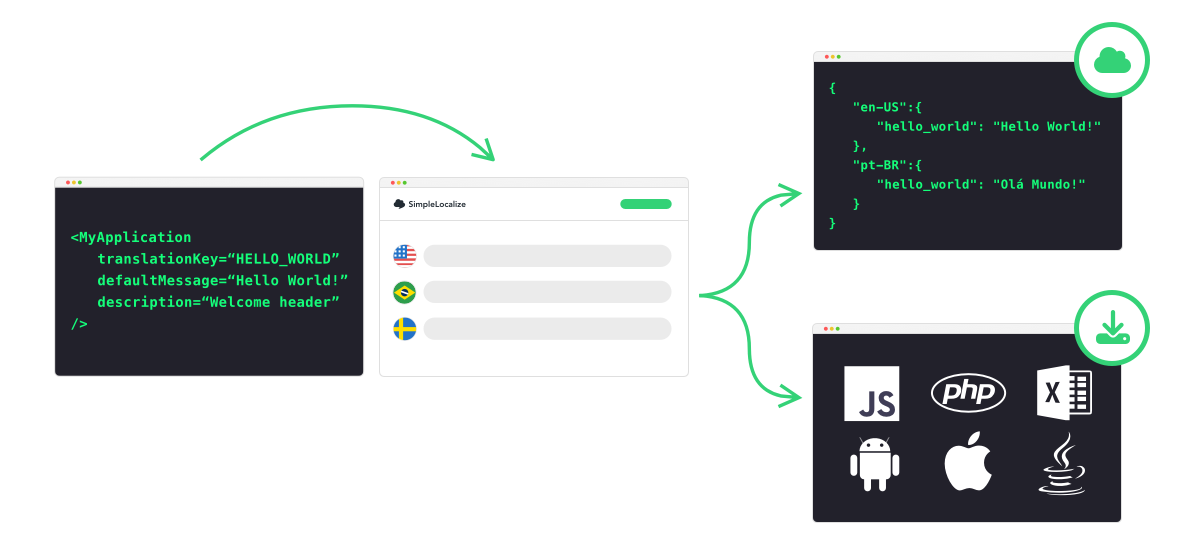 Why SimpleLocalize?
Check how we differ from other localization solutions
Other solutions

Simple, but powerful

SimpleLocalize is easy to get started with and focuses on the features that you and your client need the most. Besides that, the web interface looks neat and clean.

Overly complex

Other platforms use complex concepts and require a lot of time to get familiar with them. The number of features distracts you from the tasks you want to accomplish.

Free with unlimited strings

SimpleLocalize offers free access without entering credit card information. We offer unlimited number of words, languages, and number of projects in every plan, even in our community plan. Our paid plans are much cheaper than other solutions.

Expensive subscriptions

Other solutions not only offer very expensive subscriptions, but they also offer little or no free options. Pricing is focused on the number of strings that can increase the subscription fee rapidly.

Flat pricing

No hidden costs at any scale! SimpleLocalize offers a very simple and affordable plan for you and your project. Within easy integration options for the developers and intuitive translation editor for the manager, it creates a wonderful selection.

Changes every month

Costs estimation is a nightmare. Many services charge per 'hosted word' or 'string' which means that they charge you for every word you type in a translation editor.