Here you can check up on the list of released features for SimpleLocalize. You can submit new feature requests and wishes on our GitHub discussion page or by sending the feature request details at [email protected].
May 12, 2022
Shareable link permissions
You can now configure permissions for translators invited via 'Shareable links'.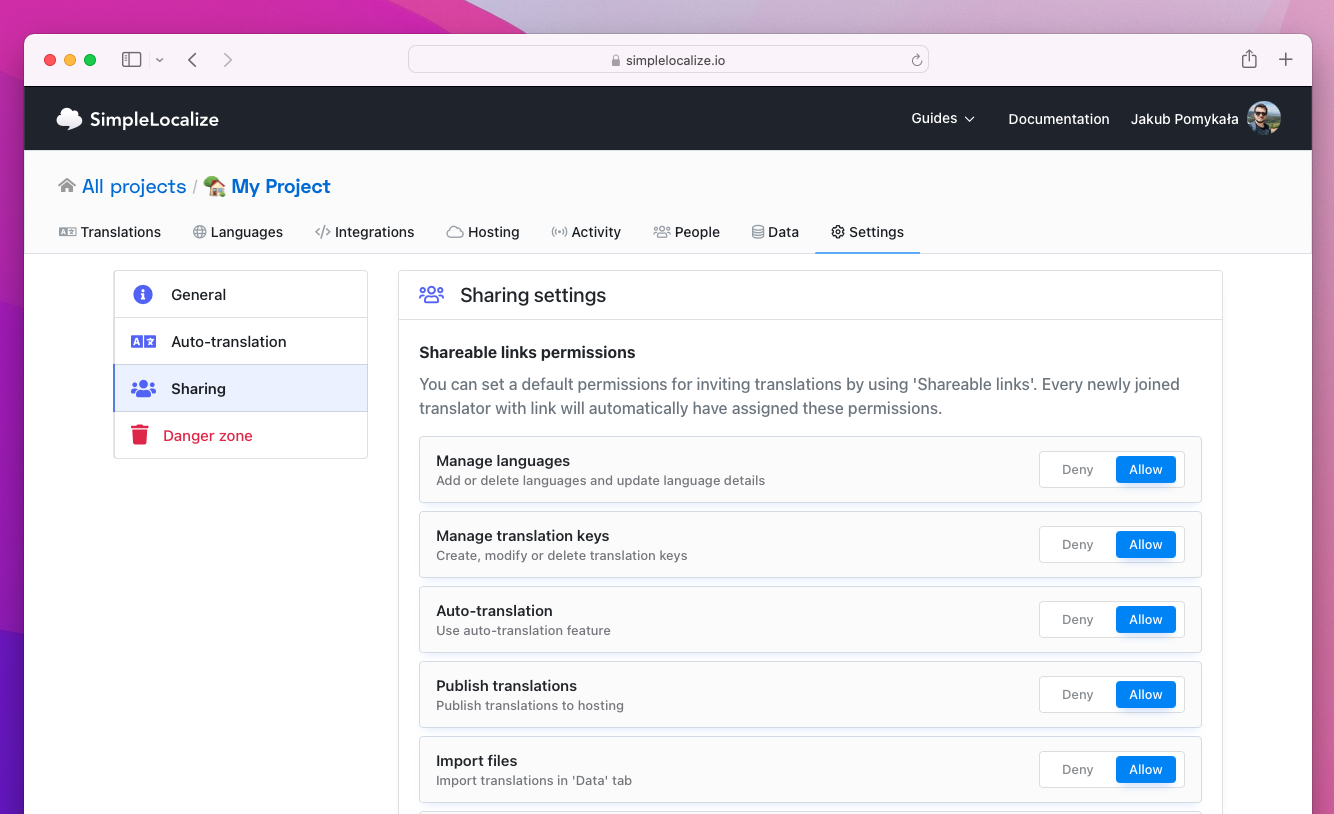 May 11, 2022
Reworked invitation screens
All invitation screens are now a bit nicer for invited users, and the whole process of joining projects should be much more user-friendly.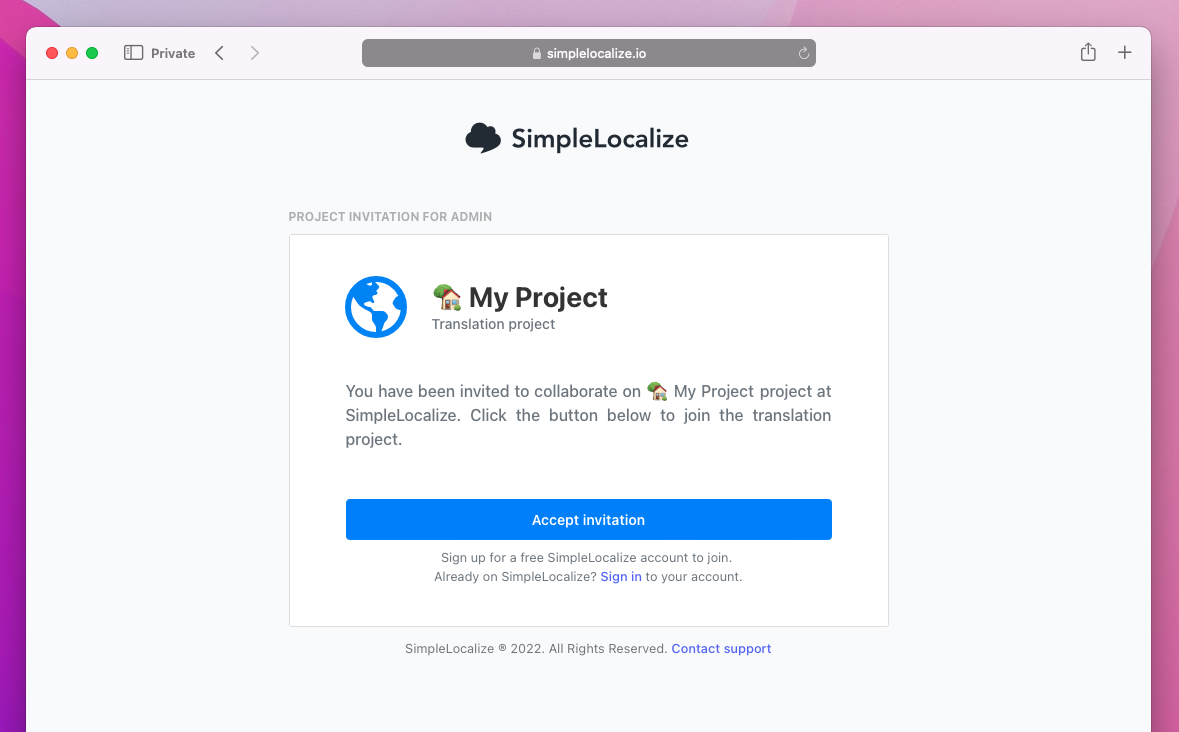 May 9, 2022
+150 new flags and custom icons
In the 'Languages' tab you can now choose from over 250 country flags and 4 custom icons (code, globe, hashtag, and comment).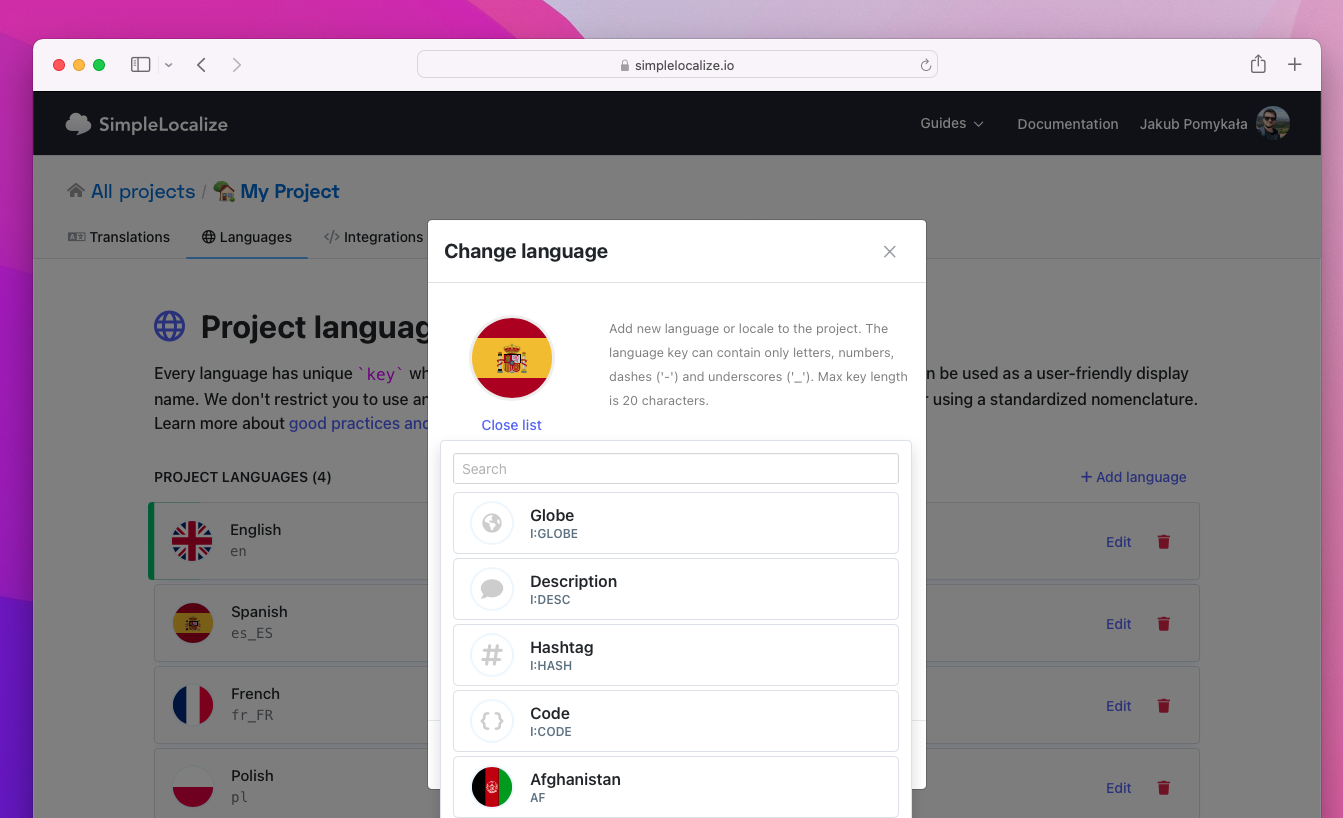 April 28, 2022
New access permissions
Limit project access permissions for Translator users and decide what system features should be available for them. You can disable access to editing keys, languages, auto-translation, importing and exporting files, activity view and publications.
Learn more about access permissions and project sharing.
April 24, 2022
New Excel/CSV options
Added option to hide translation keys from Translation tab ('HIDE' option) and block translations modification ('BLOCK_MODIFICATION' option) using Excel/CSV options column.
Learn more about translations in Excel.
April 21, 2022
New exclusion options for Auto-translation
Added option to change characters used for auto-translation exclusions.
Added option to choose dialect for auto-translation variables.
Added option to exclude list of words without brackets.
Learn more new auto-translation changes.
April 14, 2022
Assign languages to translators
Now you can assign languages to translator. Decide which languages a user can see end edit in SimpleLocalize editor. A language that is not assigned to user, won't be visible in Translations table nor languages list.
April 7, 2022
Search documentation
To make it easier for you to find the information you need in our documentation, we added a new Search option. Enter the keywords that interest you and check only related articles.
March 2022
Added Translation Project API for creating and listing projects.
Improved API error messages and added validation error messages.
Fixed creation dates of exported Excel files.
Added Language API for managing project languages.
Added key descriptions in Table View.
Added option to use text areas in List View.
Added option to wrap long texts.
Added option to show number of characters, words, and whitespaces.
Added view settings menu.
Add key descriptions in table view.
Improved Table View performance.
Improved Import Preview performance.
February 2022
Blocked option to add same translation key with different capitalization in Web UI. Translation key index is case-insensitive.
Enabled option to add same translation key with different capitalization in Web UI. Translation key index is now case-sensitive.
Added option to see a billing email address.
Added team administrators.
Added local settings.
Added option to hide unwanted projects.
Added requests stacking for changes made through API to prevent creating many small activity entries.
Added option to trim white spaces during import (Data tab).
Improved API integration performance.
Fixed translation table styling. (Windows/all browsers)
Fixed 200% DPI scaling (Windows/Firefox).
January 2022
Added this changelog.
Added referral codes.
Added option to export selected languages.
Added option to export nested JSON files.
Added option to export nested PHP Arrays.
Added option to export descriptions.
Added option to import nested PHP Arrays.
Added option to delete accounts (Account page).
Added changes summary for file imports (Activity tab).
Added support for Deepl Formality setting (Auto-translation popup).
Added option to clear project data (Settings tab).
Added import previews (Data tab).
Changed default export behaviour, now all translations are exported, even there is no text for them.
Changed 'Contributors' text to 'People' in project view.
Changed dashboard UI.
Fixed auto-translation usage bar.
Removed Google Analytics and Google Tag Manager.