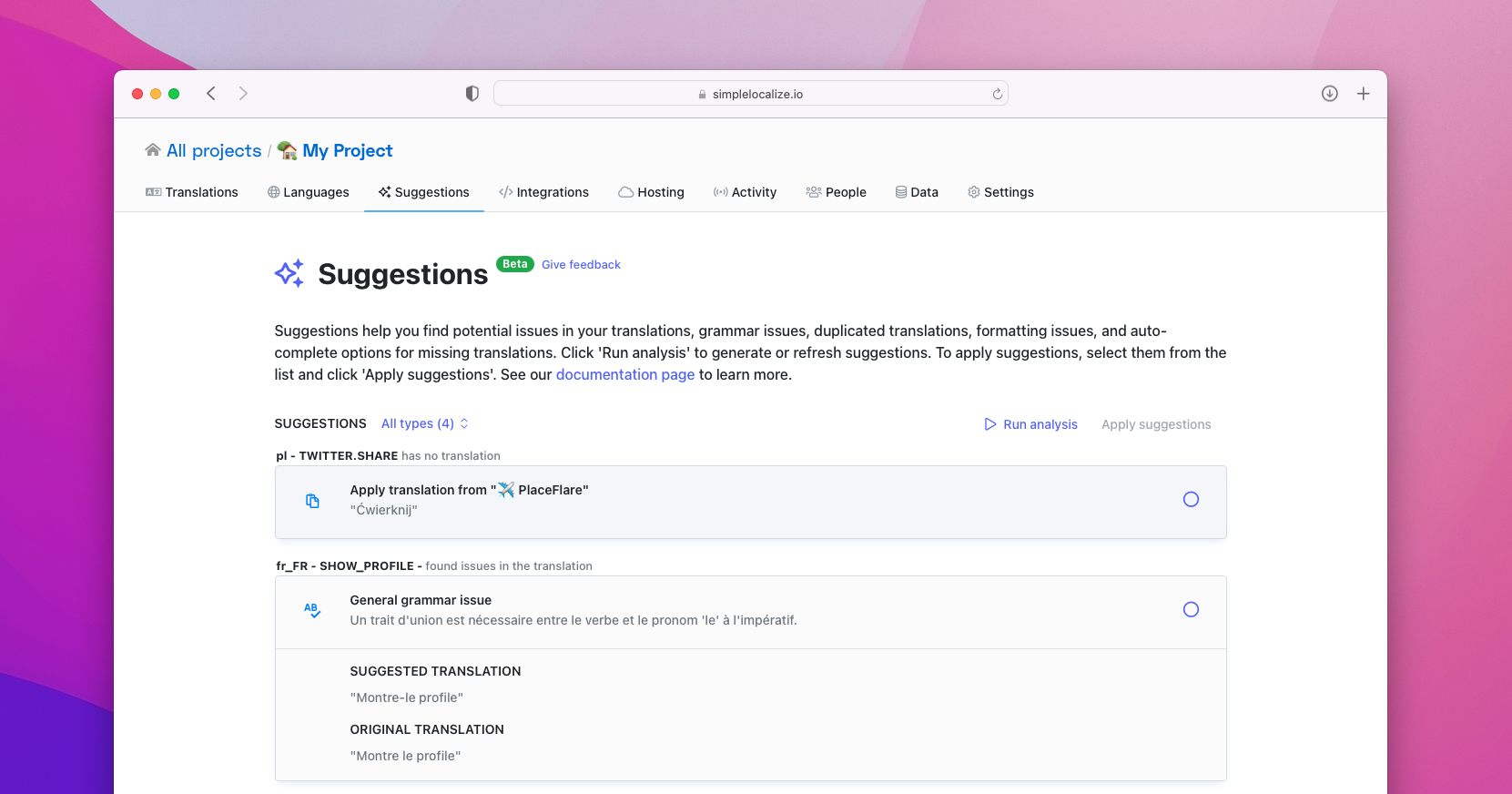 What are suggestions?
Suggestions tab provides a list of suggestions, which can improve project translations or fill missing translation based on other projects. Currently, suggestions are in beta phase, that means some suggested entries may not be accurate. The 'Suggestions' tab is visible only for Project Administrators and Project Owners only if 'Beta features' are enabled. To enable 'Beta features', go to your account settings and check 'Enable beta features'. Feel free to submit a feedback.
Does Suggestions uses my data or other data to provide better results?
No. 'Suggestions' takes into consideration only the translation data from project which the project owner has access to. Suggestions are never taken from other projects. Your translation data never participates in the suggestion process for other projects. Your translation data are never shared with other projects at anytime.
Can I adjust suggestions settings somehow?
No. Currently, suggestions settings are set globally by SimpleLocalize and there is no option to adjust them. Feel free to let us know what settings would you like to see.
What suggestions types are supported?
Currently, there are two types of suggestions supported:
auto-complete type - fill missing translations based on content in other projects,
grammar issues type - finds potential grammar issues and fixes translations.
The list of new suggestion types will grow soon.
Why grammar issue messages are not in English?
Grammar issues provide messages in the same language as the checked translation. The reason for that is that it's not always possible to explain and translate grammar rules in other languages in one sentence to make it clear enough. If you don't understand French, and don't speak French, you probably shouldn't apply French suggestions. 😉
Are applied suggestions recorded somehow?
Yes, every applied suggestion is shown in the 'Activity' tab, and it has 'Suggestion applied' type. The entry provides the list of changes, the same way as a regular Activity entry for translation changes.
Can I revert applied suggestions?
No, there is no option to revert suggestions, at the moment. You can export your project translations in 'Data' tab and keep it as a backup before making changes or applying suggestions.
Some suggestions seem to be useless or incorrect
Please make a screenshot or provide us with problematic translation key, language key, and project name or project token. This will help us to provide adjustments.
Other questions
If you have any question regarding the suggestions, feel free to ask them via email: [email protected].