Translation Editor
Save time on handling localization files and translation strings.
Try SimpleLocalize
How to get started with a TMS: An introduction to SimpleLocalize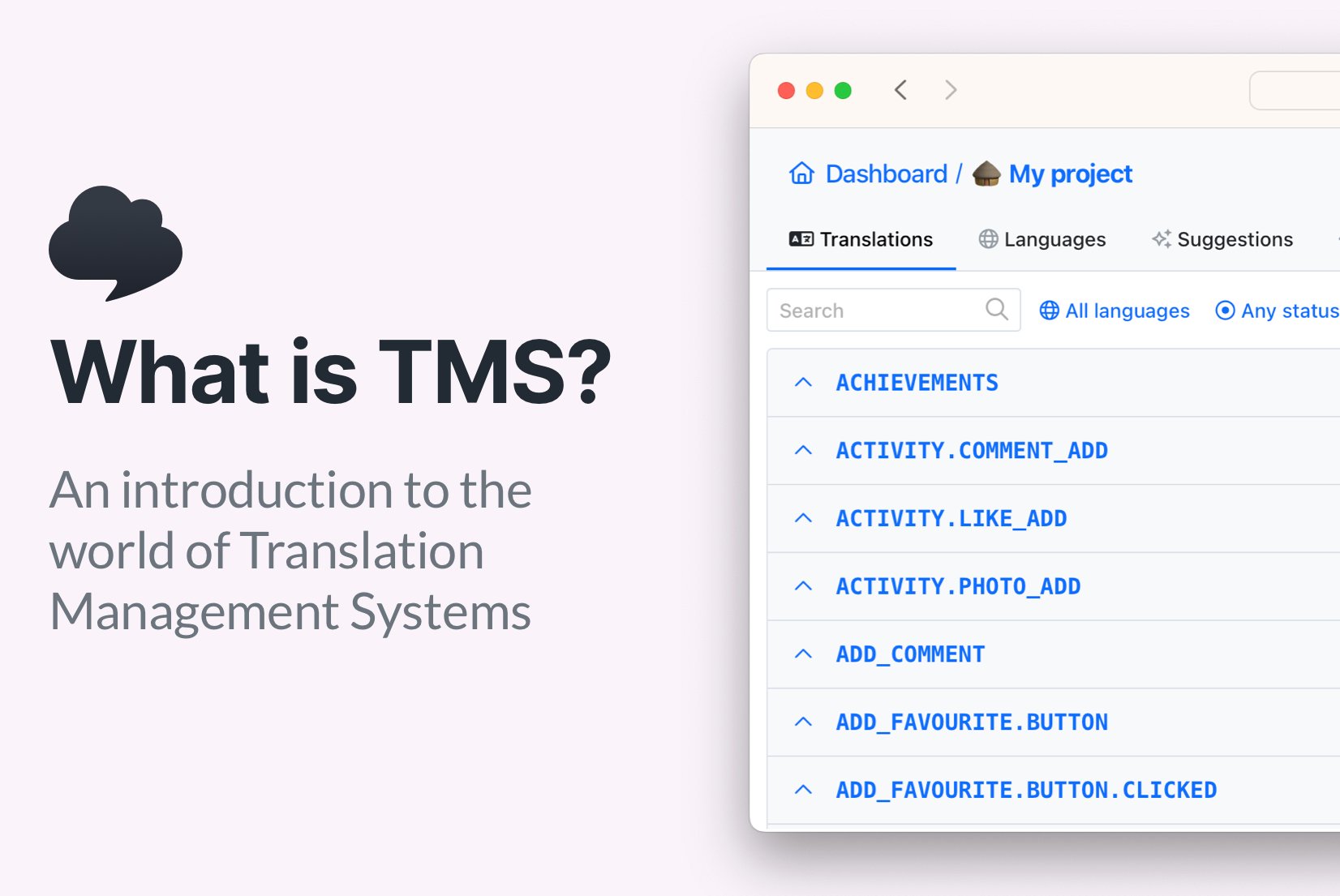 Localization has become a crucial aspect of global business expansion, enabling companies to reach new markets and engage with diverse audiences. However, managing translations efficiently can be a challenging task without the right tools in place. That's where Translation Management Systems (TMS) like SimpleLocalize come to the rescue.
In this blog post, we'll introduce you to SimpleLocalize and explore how it can simplify the localization process for your business. Whether you're new to TMS or seeking a more streamlined solution, SimpleLocalize offers a simple, user-friendly interface, powerful features, and seamless integration options to help you scale your localization efforts.
Table of contents
What is a TMS?
A Translation Management System (TMS) is a software tool designed to streamline and simplify the process of managing translations and localizing content. It serves as a centralized platform that facilitates collaboration between translators, developers, project managers, and everyone involved in the localization workflow.
TMS tools offer features such as a translation editor, translation storage, translation key management, version control, and integration capabilities with various file formats and development frameworks. By automating and optimizing translation processes, TMS enables businesses to efficiently handle multilingual content and improve overall translation quality. Whether you're translating a website, a software application, or any other content, a TMS like SimpleLocalize can be an invaluable asset in effectively managing your localization projects.
Benefits of using a TMS
Using a Translation Management System (TMS) like SimpleLocalize offers several benefits for businesses looking to streamline their localization processes. Here are some key advantages of implementing a TMS:
Improved Efficiency: A TMS centralizes translation management, which results in efficient collaboration between different team members and automates the translation and localization workflows.
Enhanced Translation Quality: Consistency and accuracy are ensured with features like translation review, auto-translation, and translation memory.
Cost Savings: By automating processes of content translation, TMS helps minimize costs associated with duplicate work and manual errors.
Scalability: Easily handle multiple languages and expand localization efforts by adding new languages.
Collaboration: A TMS provides effective collaboration between developers, translators, and project managers.
Centralized Translation Storage: All translation files and versions are stored in one place, ensuring easy access and retrieval of localized content.
Integration Capabilities: seamlessly integrate with multiple development frameworks; use SimpleLocalize CLI and API to easily download or upload translations to your project.
What is SimpleLocalize?
SimpleLocalize is an online Translation Management System (TMS) that prioritizes simplicity and effectiveness in software localization. Its user-friendly interface enhances the overall experience, while its seamless integration with different translation workflows in various projects ensures smooth and effortless management of translations. SimpleLocalize aims to provide a straightforward and intuitive solution for businesses looking to streamline their localization processes.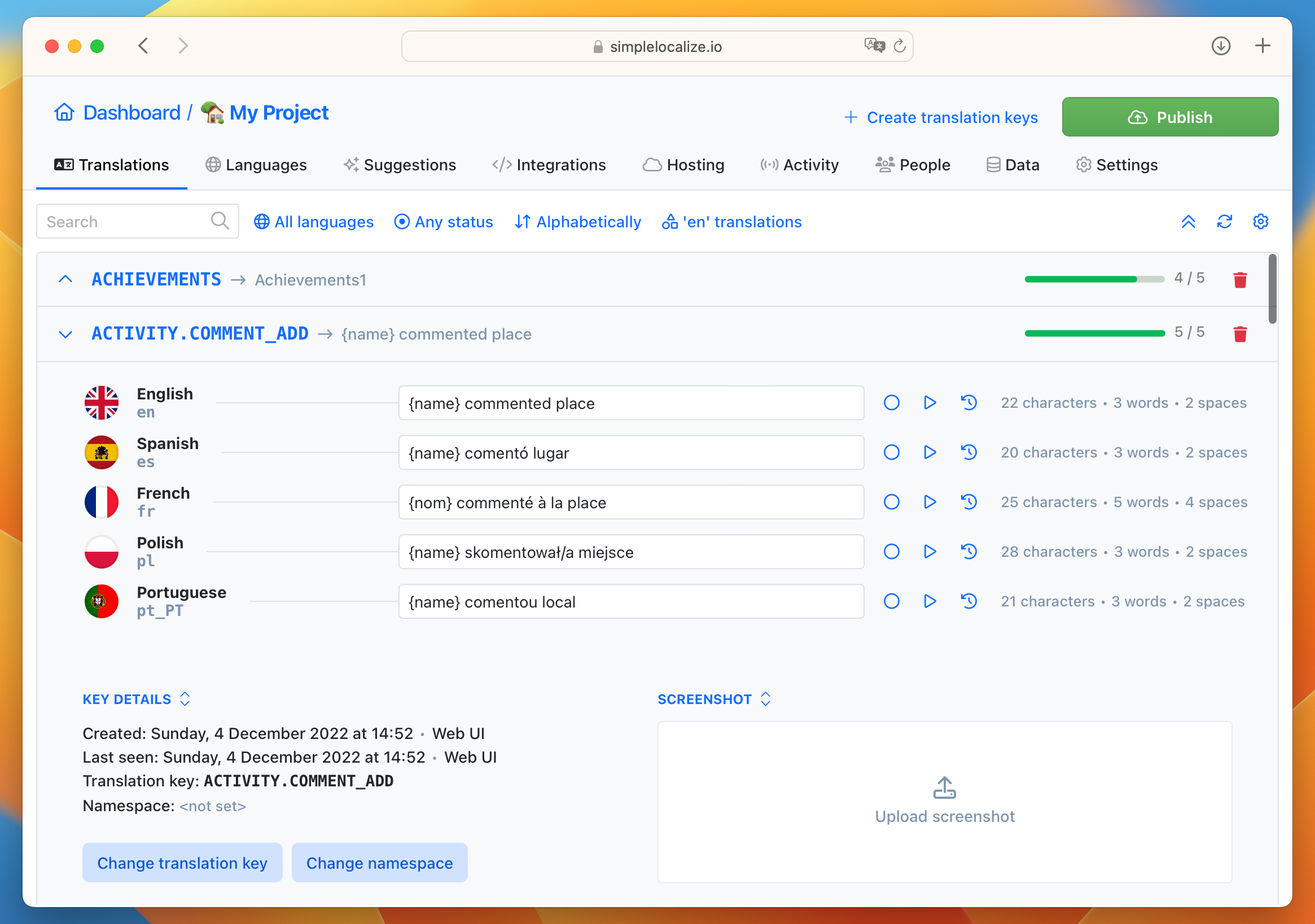 Key features of SimpleLocalize include:
Intuitive and customizable Translation Editor: The translation editor in SimpleLocalize offers an intuitive interface with customizable options. Users can personalize their work environment with keyboard shortcuts, different view options, and even switch to a dark mode for a comfortable and enjoyable experience.
Support for multiple file formats: SimpleLocalize supports a wide range of file formats, including JSON (single or multi-language), Excel, CSV, YAML, XML, PO, and more. This flexibility allows users to work with their preferred file formats and easily import/export translations.
Version control and backups: SimpleLocalize offers the ability to create backups and maintain different versions of translations. This feature ensures data safety and allows users to roll back to previous versions if needed.
Translation hosting: Ensures fast and efficient delivery of localized content to end-users.
Access sharing: work together with different team members and translators through access sharing features.
Developer Tools for rasy integration: SimpleLocalize offers a range of developer tools to facilitate integration into existing workflows. These include CLI, Webhooks, and an API, allowing developers to customize translation and localization workflows based on their specific needs.
How to get started with SimpleLocalize TMS
Translation management is made easy with SimpleLocalize. In this section, we'll guide you through the steps to get started and make the most out of this powerful tool.
Create an account
To begin your journey with SimpleLocalize, the first step is to create an account. You will start with a 14-day free trial in our Team plan to get to know the system's features. After the free trial, you will have access to the community free plan, which allows you to work on a small project or test the system before deciding to upgrade. Signing up is quick and straightforward, requiring only basic information to get started.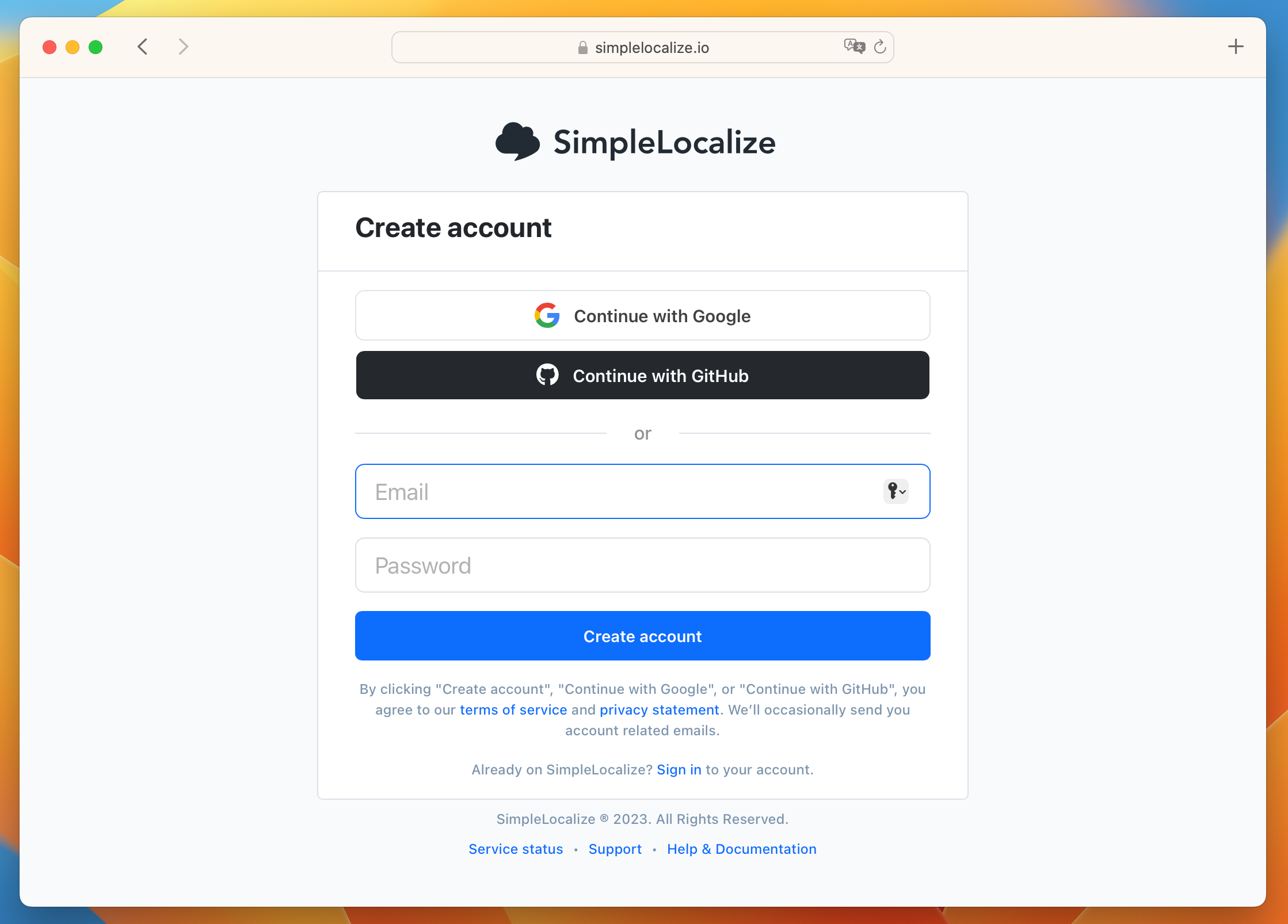 Check out our pricing and plans here.
Create a project and import translations
Once you have your account set up, the next step is to create a project within SimpleLocalize. The intro page will bring you straight to this part, where you can add your project name and choose languages you want to work with.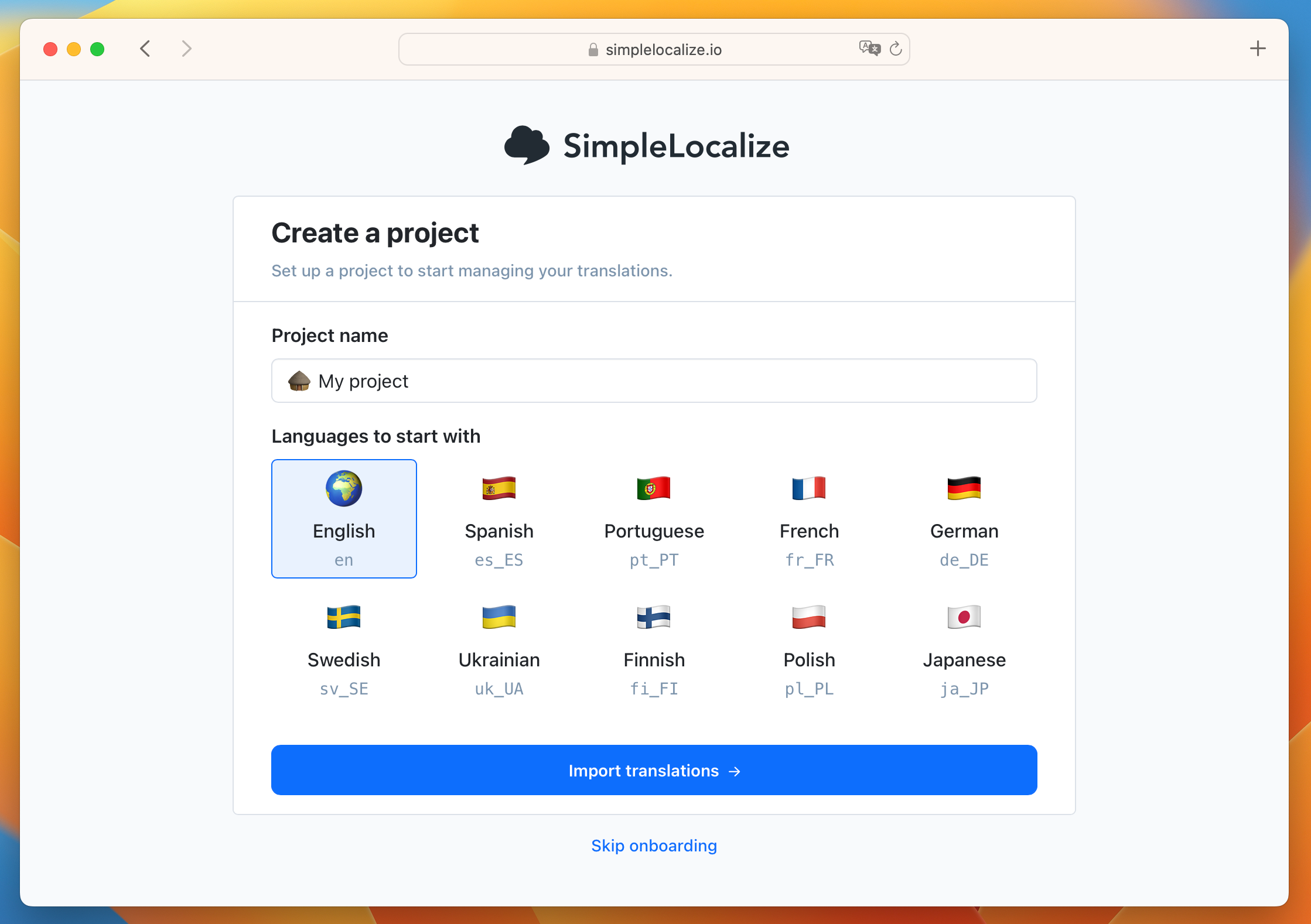 Projects serve as containers for your translation files and allow you to organize and manage your localization efforts effectively. Within the project, you can import your existing translations to get started quickly. SimpleLocalize supports a variety of file formats, making it convenient to import translations from different sources.
To import your existing translations, choose the file format that you use and choose extra options for the import. There are multiple options for importing translations: besides uploading translation files in different formats, you can also upload translations using our API or CLI.
Tip: Instead of uploading translation files, you can start by adding a few custom keys and translate them for a quick test.
Translate and use translation editor features
With your project set up and translations imported, it's time to dive into the translation process. SimpleLocalize provides an intuitive translation editor that allows you to easily manage and edit your translations. The editor offers a range of features, including keyboard shortcuts, different viewing options, and customizable settings, which you can access from the right side panel: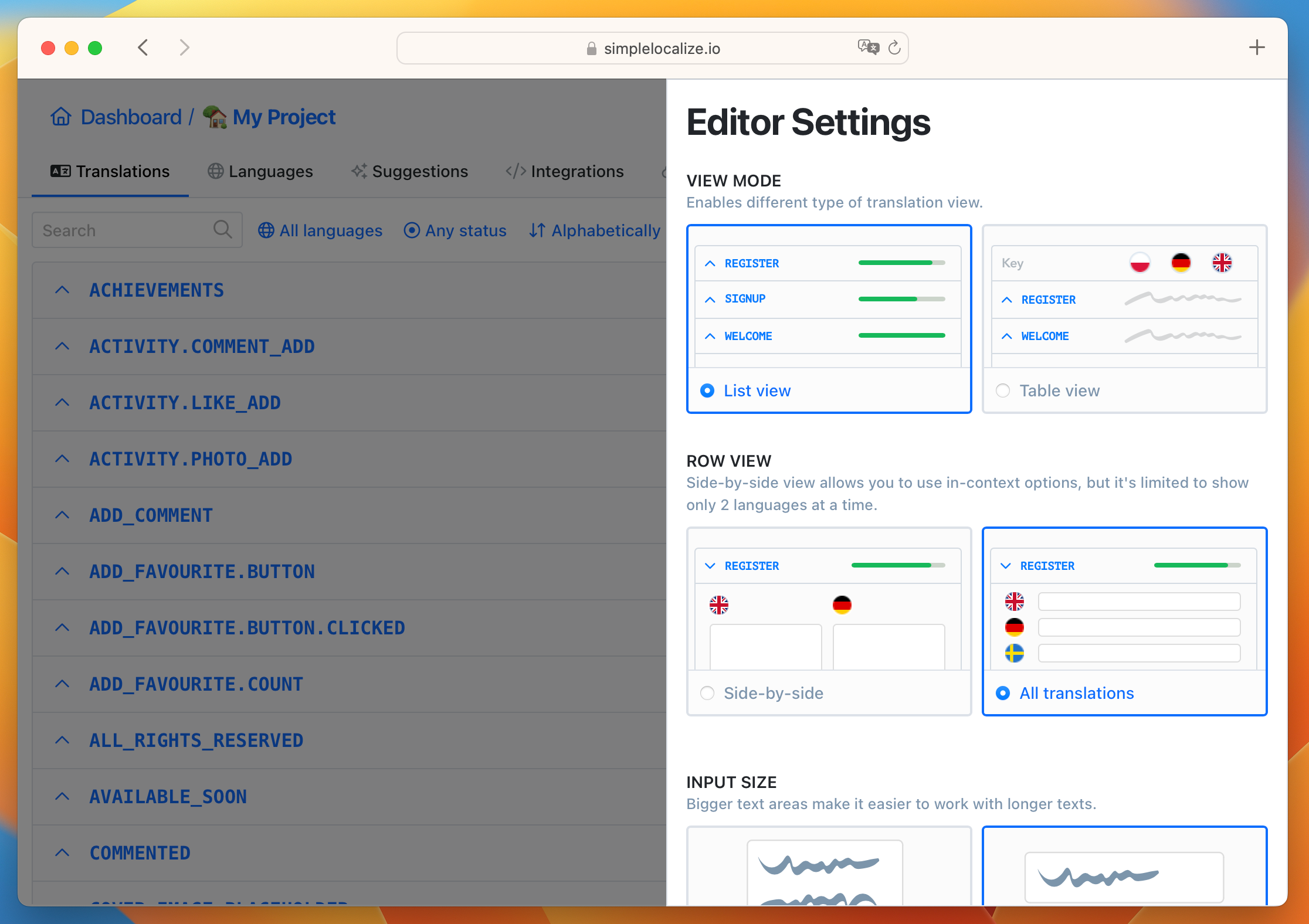 These features enhance your productivity and provide a pleasant working experience. You can effortlessly navigate through your translations, make edits, and ensure linguistic accuracy.
Now, it's time to use the translation editor. Add a new translation, translate it with the auto-translate feature, and add screenshots or descriptions for easier translation key identification.
Export ready-to-use translation files
Once your translations are complete, it's time to export them for use in your software or application. SimpleLocalize enables you to export your translations in ready-to-use file formats, ensuring compatibility with your development environment. Whether you need JSON, Excel, CSV, or any other supported format, SimpleLocalize has you covered. Like during the import, you can export translations using the SimpleLocalize CLI or API.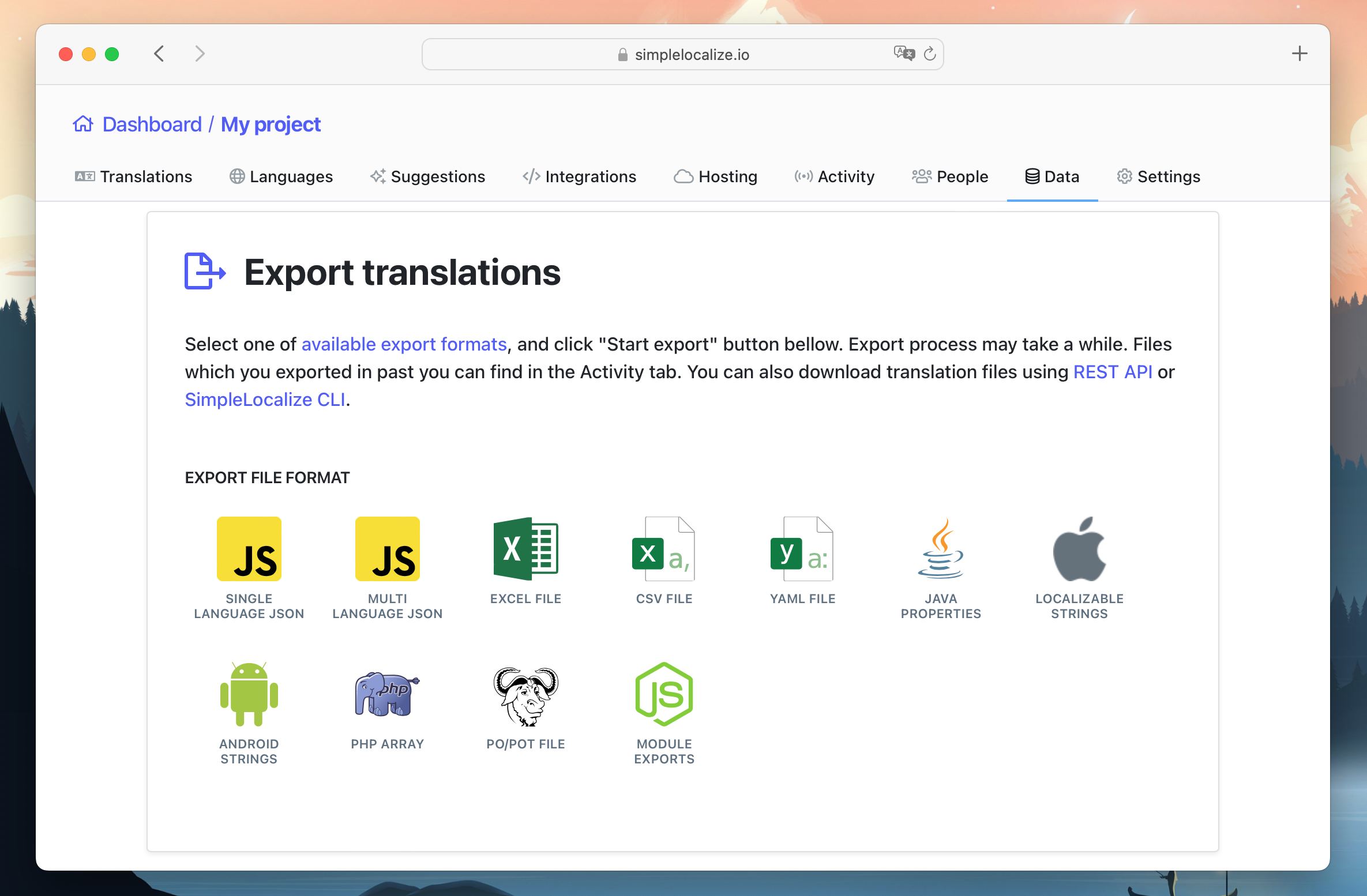 Exporting your translations is a seamless process, allowing you to integrate them directly into your project and deliver localized content to your audience.
How to manage translations in SimpleLocalize?
SimpleLocalize translation editor gives you many options for managing translations. Invite translators to give them access to selected languages within the project, add descriptions and screenshots to help them in the translation process, or use the auto-translation feature that will do the translators' work in seconds.
Add and manage translation keys
In the translation editor, you add translation keys manually. There may be multiple translation keys with translations in the selected language at once, and you can even assign them a namespace.
To better describe the translation key location, you can add a description and screenshot to specify the key usage and location and make it easier for the translator to identify the translated content.
Learn more about translation editor.
Auto-translate
SimpleLocalize offers an efficient auto-translate feature that utilizes popular translation engines such as DeepL and Google Translate. This powerful tool enables you to quickly translate your content with just a few clicks, making it ideal for both quick translations and adding support for new languages to your project.
With the auto-translate tool, you have the flexibility to translate individual texts, providing valuable assistance to translators and accelerating the overall translation process. Additionally, you can choose to auto-translate all missing translations within your entire project or selectively in specific languages. This versatile functionality allows you to expedite the localization of your content and ensure comprehensive language coverage.
Learn more about auto-translation tool.
Create project backups
Creating backups of your translation data is a crucial foundation for your localization efforts. SimpleLocalize understands the importance of data security and provides backup options to ensure the safety of your translations. By creating backups, you can safeguard your work and have the ability to restore previous versions of your translations if needed.
Additionally, SimpleLocalize allows you to copy backups to new projects, making it convenient to replicate and transfer your translations from one project to another. With these backup features, you can have peace of mind knowing that your translation data is protected and easily accessible when required.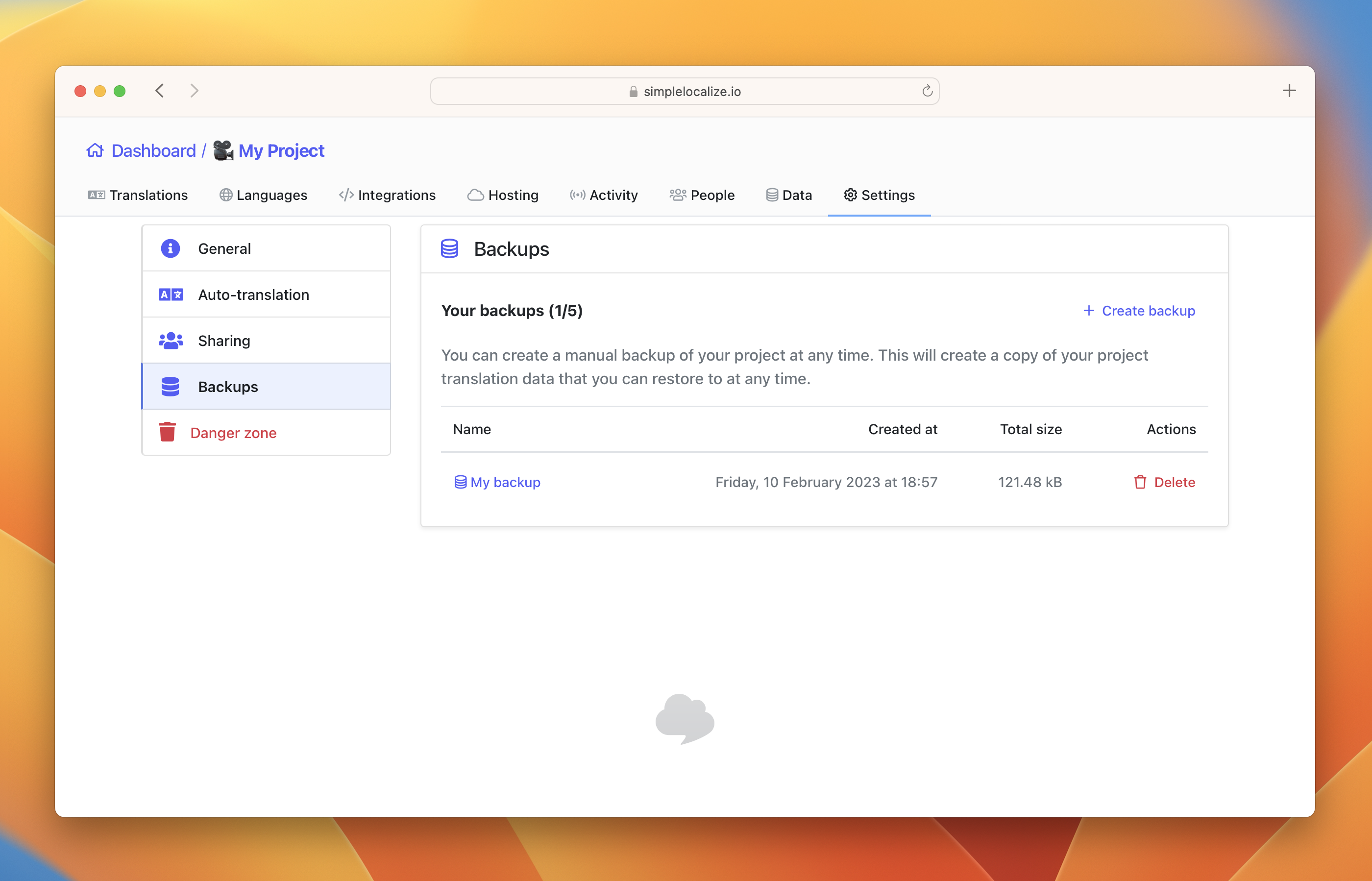 Integrating SimpleLocalize into your workflow
Integrating SimpleLocalize into your existing workflow is seamless and straightforward. Our TMS offers a range of integration options to ensure a smooth localization process. Here are a few ways you can integrate SimpleLocalize into your workflow:
CLI (Command Line Interface)
SimpleLocalize provides a powerful Command Line Interface (CLI) that allows developers to automate translation tasks. With the CLI, you can easily sync your translation files, import/export translations, and perform various actions directly from the command line. This integration option simplifies the process and enables effortless integration with your development workflow.
Learn more about SimpleLocalize CLI.
Webhooks
SimpleLocalize supports webhooks, enabling real-time notifications and triggering actions based on specific events. By setting up webhooks, you can receive instant updates about translation changes, auto-translation, new files, or other relevant events. This integration ensures that your workflow remains synchronized with the changes happening in SimpleLocalize.
API (Application Programming Interface)
For more advanced integration requirements, SimpleLocalize offers a comprehensive API. The API allows you to programmatically interact with SimpleLocalize, giving you full control over your translation management. You can leverage the API to perform actions such as creating projects, importing translations, retrieving translation data, and more. This flexibility empowers you to seamlessly integrate SimpleLocalize into your custom workflow or existing systems.
Learn more about SimpleLocalize API
By integrating SimpleLocalize into your workflow through the CLI, webhooks, or API, you can streamline your translation management process, automate tasks, and ensure smooth collaboration between developers and translators. SimpleLocalize's integration options provide the flexibility and control you need to optimize your localization workflow and deliver high-quality translations efficiently.
Conclusion
SimpleLocalize is a user-friendly TMS that simplifies and optimizes the localization process for businesses. With its intuitive interface and seamless integration options, SimpleLocalize offers numerous benefits, including improved efficiency, enhanced translation quality, cost savings, scalability, collaboration, and centralized translation storage.
Getting started with SimpleLocalize is easy. You can create an account and explore the platform with a 14-day free trial in the Team plan. Creating projects, importing translations, utilizing the translation editor, and exporting ready-to-use files are straightforward processes. For any doubts or questions, feel free to contact us!