Ensure the safety of your translation projects by creating backups with SimpleLocalize. Take advantage of the Backups feature, which allows you to create backups manually, restore previous versions, and even create new projects directly from your backups.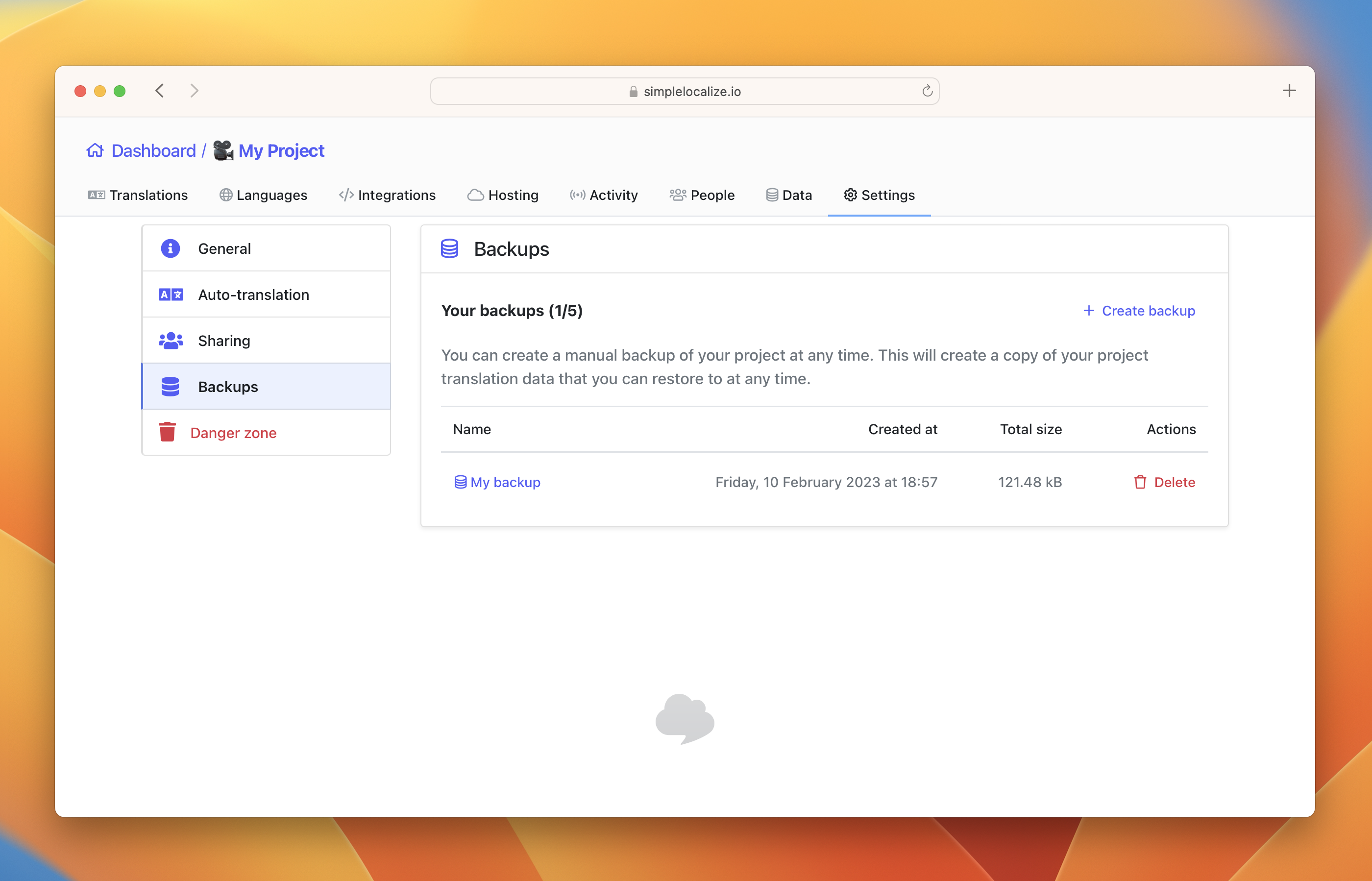 Every backup contains the following data:
languages (including language codes, names, and flags)
customer contexts
auto-translation settings (excluding API keys)
translation hosting settings (excluding custom environments)
translation keys
translation key options
translation key namespaces
translation key descriptions
translation key code descriptions
translation key creation dates and sources
translation key last modified dates and sources
translation key last seen dates
translation texts
translation statuses
translation auto-translation statuses
At the moment, backups does not contain translation key screenshots, and they won't be restored or moved to a new project.
Create backup
Create a manual backup of your project with up-to-date translation data whenever you need.
To create a backup of your translations, open your project and navigate to project 'Settings'. There, click on 'Create backup' option and add your backup name. All backups will appear on the list, where you can manage them and delete if needed.
Restore backup
Restoring a backup gives you quick access to earlier versions of your project. You have the option to either overwrite existing translation data with the data from the backup, or create a new project based on the backup's data. This flexibility enables you to easily manage and revert to specific project states when necessary.
To restore a backup, click on the selected backup from the list and choose the restore option:
Create a new project from backup
This option will copy the project version from the selected backup to a newly created project. This is an easy way of creating a quick project copy in case of similar translation projects.
Restore backup and override existing project
By selecting this option, you will replace the current translation data with the data from the chosen backup. Remember, you can always create a backup beforehand for added peace of mind.