Table of contents
How do I get a VAT refund?
During the upgrade process, you have the option to add your company address and VAT ID. Our payment processor Paddle handles all the VAT and other sales taxes, so if you're eligible, no VAT will be charged on your subscription.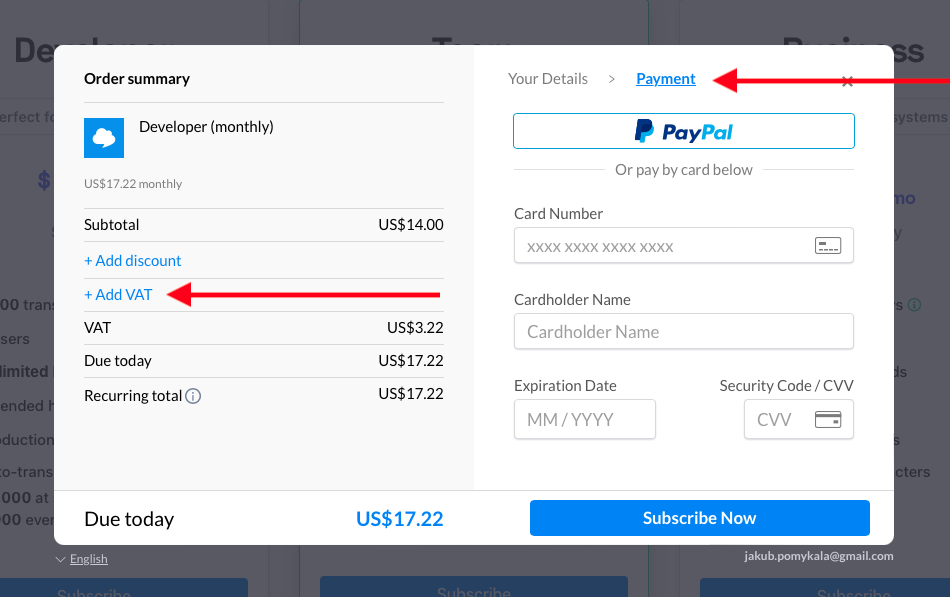 If you haven't added your company details during the subscription process, you can open the invoice that Paddle sent you and click on the "Add address & VAT Number" link to do so.
More information about Paddle and the sales taxes or VAT can be found here.
How to get an invoice in PDF?
You can save the invoice as a PDF by:
Right-click the page and click "Print…"
Change destination to "Save as PDF"
Click "Save" to download the invoice
My subscription plan is not active
Subscriptions are activated always on a user account, and projects derive subscriptions from project owners. If you are a Team plan member, you can add team administrators to give other users permissions to manage projects within project owner subscription.
Contact our support to transfer project ownership to another user who bought the subscription.
Why invited translators have trialing accounts?
Every new user in SimpleLocalize starts with a 14-day trial account. After the 14-day, the subscription plan is downgraded to a free community account. Translators (and all other users invited to the project) will still have access to the project and all its features after the trial period, according to the subscription owner plan.
Can I switch to yearly billing?
Yes, you can do it by yourself on upgrade plan page or contact support to do so. In some rare cases, due to 3DS authentication made by Paddle.com (our payment provider), we won't be able to charge your card with a different amount. In such a situation, we will need to cancel your current subscription and start a new one. When you make a change to your plan, it goes into effect immediately and you are billed a prorated amount based on your new plan and billing cycle.
Can I switch/upgrade/downgrade my plan?
Yes, to do so, go to upgrade plan page and choose the plan which you would like to switch to. When you make a change to your plan, it goes into effect immediately and you are billed a prorated amount based on your new plan and billing cycle. In some cases, this might result with an error due to payment processing problems on your bank side. In such cases, please contact support, and we will help.
How do I change my billing address?
You can change the billing address yourself by opening your invoice and clicking the "Edit business address".
Unfortunately, changing a country associated with a subscription isn't possible due to legal and tax reasons. Suppose you wish to link the service to a company registered in a different country. You can wait until the current subscription expires, then cancel the subscription and resubscribe again from the same account with the address in the new country. You won't lose any of the data in this process.
Where can I find my invoices?
Invoices are available in the Billing & usage section at the bottom of the site.
I don't see my invoices
Invoices are attached to the account that subscribed for the paid plan or bought the auto-translation characters. Only subscription owners and billing contacts have access to the invoices.
I need an invoice
Paddle sends customizable invoices for every transaction you make. This invoice is always sent to your registered email, and you can update the information you need such as your address, company name, and VAT number.
Once you buy one of the plans, you will get an email from Paddle.com with the recipe. Open the recipe webpage to provide or adjust your company details. If you have updated your invoice with your VAT number, and you are eligible for a tax refund, Paddle will automatically process the VAT refund for the purchase.
If you have not received the funds back into your account in 5 working days, please reach Paddle directly.
How to apply a coupon code?
To apply Paddle coupon code, choose a subscription plan and in the popup window click 'Add coupon' button.